On 17 June, four of our FORWARD forces flew overseas to attend Salesforce's Connections 2019 at McCormick Place in Chicago. Bruno, Kevin, Nikki and Thomas received the opportunity to join this three-day conference, about using the Salesforce Customer Success platform to connect the power of commerce, marketing and service and build even better customer experiences. Salesforce and industry experts shared practical insights on the application of cross-functional methods to boost seamless brand engagement.
Connect with customers at every touchpoint
This year at Connections, customers and fellow partners learned new ways to create customer engagement using a cross-cloud approach. During various keynotes and hands-on workshops, Salesforce experts and other trailblazers gave demos on brand-new releases for Commerce, Marketing and Service Cloud using real-life cases. Most of the sessions were focused on the new features of Customer 360, the upcoming Solution Kit to connect Mulesoft with Commerce Cloud, and the new Page Designer. Attendees could also discover the latest innovations and trends in digital marketing, commerce and service.
Salesforce is a strong believer in 'work hard, play hard', so there was also some time to unwind with fellow trailblazers. At the end of day 1, Salesforce invited all attendees to a high-flying rooftop party, amidst the city's skyscrapers. Attendees enjoyed an apero, along with the Chicago skyline.
On day 2 of Connections, Salesforce even hosted a legendary concert with Gwen Stefani at the Wintrust Arena! Talk about an enchanting night in Chicago! A great surprise and worth it to fly overseas to attend the Salesforce's Connections 2019 event!
Our key takeaways from Connections:
"Marketing, commerce and service can collaborate better thanks to Customer 360."
During Connections '19, Salesforce introduced a new set of services to enhance data management across Commerce, Marketing, Service, Sales and Community Cloud. With Customer 360, Salesforce goes further in centralising consented data from any source to create a unified profile of each customer. Using Customer 360, you can segment and activate customer data to deliver personalised engagement at every touchpoint. Finally, a new key feature is that you can analyse performance to make adjustments with the power of Einstein. Thanks to these innovations in Customer 360, Salesforce is creating a comprehensive customer data solution for the entire Customer Success platform.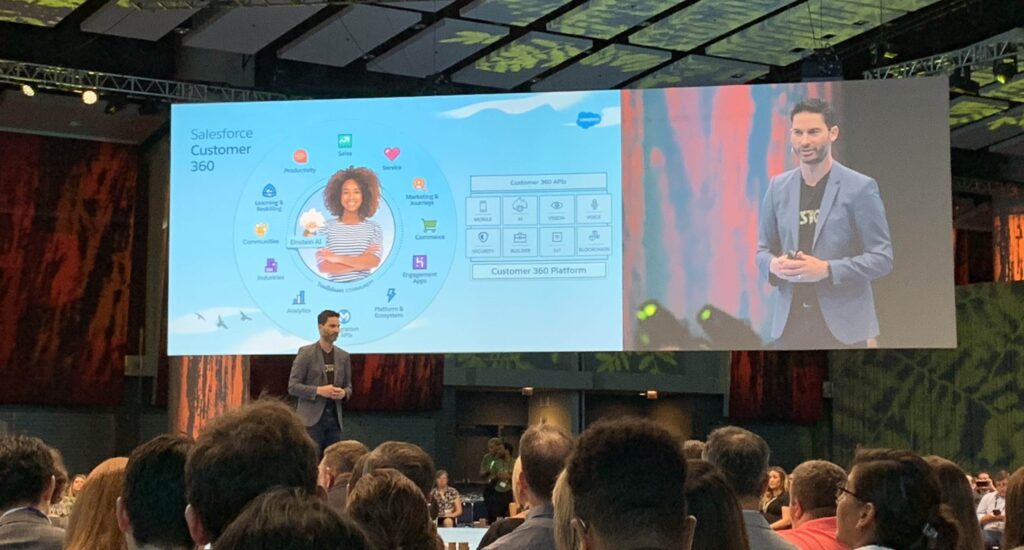 Ask yourself the question: "What does my customer really need?"
Keynote speakers never stopped emphasising the importance of understanding what the customer really needs. What's their persona? What day-to-day problems are they facing? Which shopping channels do they prefer? And what do they need to keep on loving and engaging with your brand? To answer such questions means keeping the conversation going with your customers. Leading us to our next key takeaway: the essence of data collection.
"It's all about data data data!"
Data collection is imperative to understand your (future) customers, and their likes and dislikes. Data was a key word in every keynote and session. With customer data (and other types of data), companies are armed with valuable information to make informed decisions in customer service. And the better your data, the better you can shape customer experiences throughout the brand journey.
Research demonstrates that customers are more likely to return when you address them with their first name, provide content that is relevant and even predict their next best move. In fact, the Salesforce Connected Customer Report even reveals that 80% of the respondents believe the experience a company provides is as important as its products and services.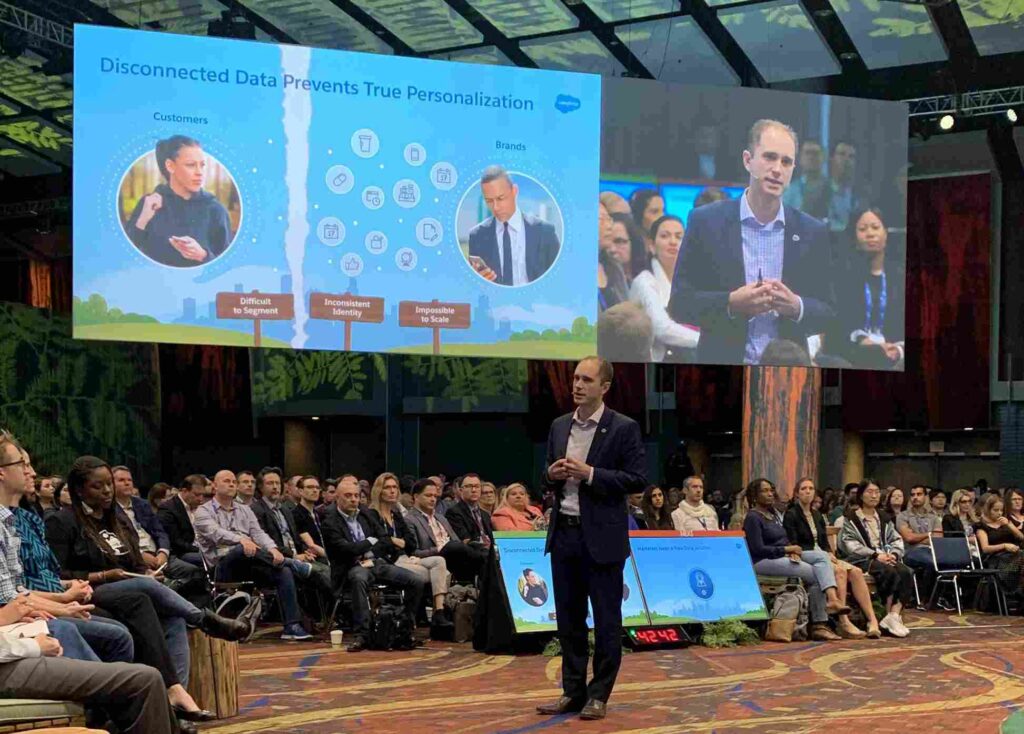 "Go the extra mile."
Today's consumers have never been more connected. But at the same time, they expect seamless, personalised experiences from retailers and other businesses. So, even if you have the right data at hand and really understand your customers, their expectations have hit an all-time high. Nowadays, they are harder to impress, because they are becoming immune to superficially personalised marketing messages. One of the most memorable takeaways from Connections? The value of going the extra mile for your customers. Using
tools such as Customer 360, journeys, AI, but also by delivering impeccable customer experiences, companies can offer products, services and apps that make their client's life much easier.
One good example of going all the way is the E.L.F. Cosmetics case. They emphasised the value of a unique and personalised experience to beauty enthusiasts. Dana Chery, Senior director of Product Marketing at Salesforce, gave an intriguing demo about a revolutionary selfie component on the mobile website to help build a richer customer beauty profile. The component can detect your face features, such as the skin tone and the shape of your face and eyes. Thanks to such data, E.L.F. can deliver more personalised experiences by showing a personalised homepage with product recommendations that are tailored to the customer's particular beauty profile. For example, by using the selfie component, a beauty enthusiast discovers the specific shape of her eyes and enjoys a customised homepage, featuring relevant products, etc.
The E.L.F. Cosmetics case is just one of the many companies that deliver more than expected, This not only boosts the customer lifetime value, but also helps to attract new clients! So it's a win-win all round.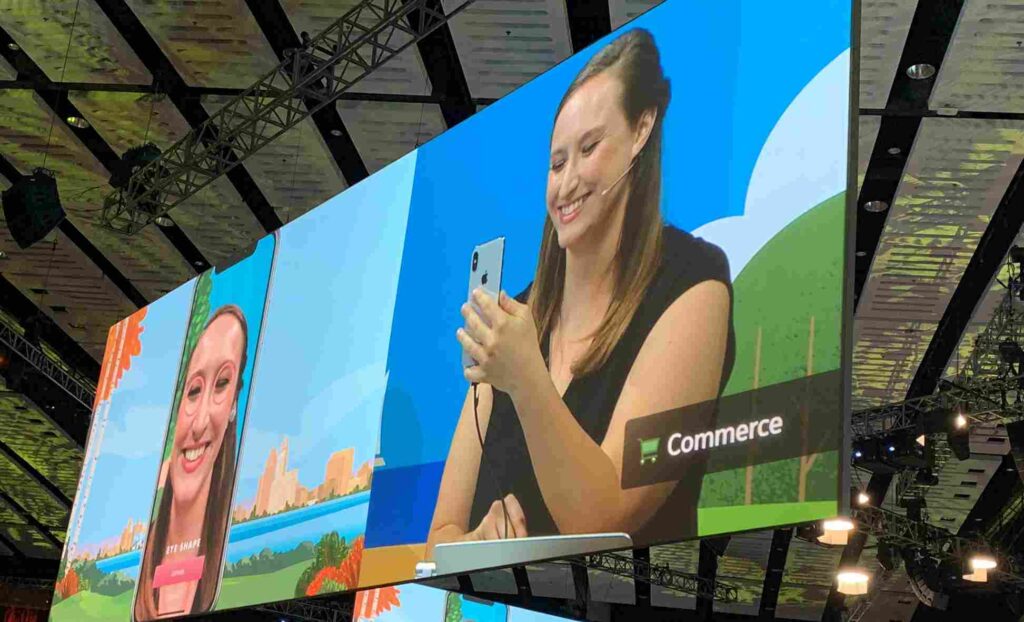 What did we learn at Connections?
Flying overseas to attend the Salesforce's Connections 2019 was a valuable journey, giving FORWARD the opportunity to connect with fellow trailblazers and discover how today's changemakers are transforming the digital future. Thanks to the new features in Customer 360 and their integration with the different Salesforce Clouds, companies can go the extra mile to connect with the customer like never before. Thanks to Connections '19, our four FORWARD forces brought home some useful insights and best practices, which they can't wait to apply during future projects!
Are you intrigued by the Salesforce tools? Or are you interested in talking business with FORWARD?
Let's get together to discover what you can do to build next-level customer experiences.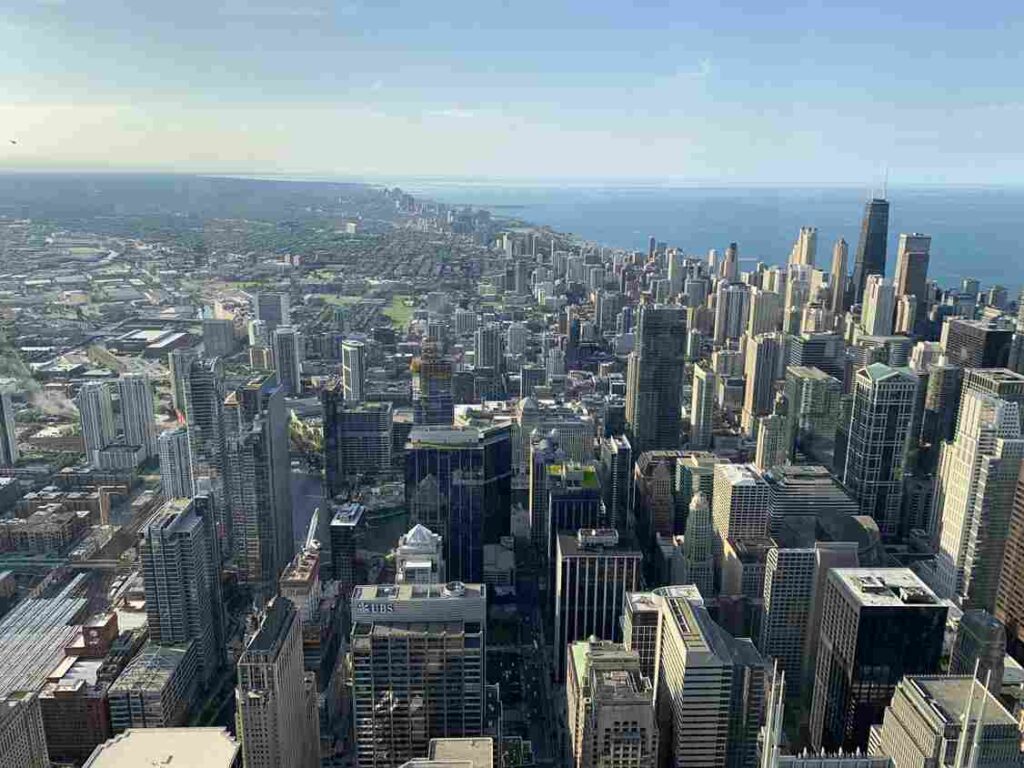 Contact us for more information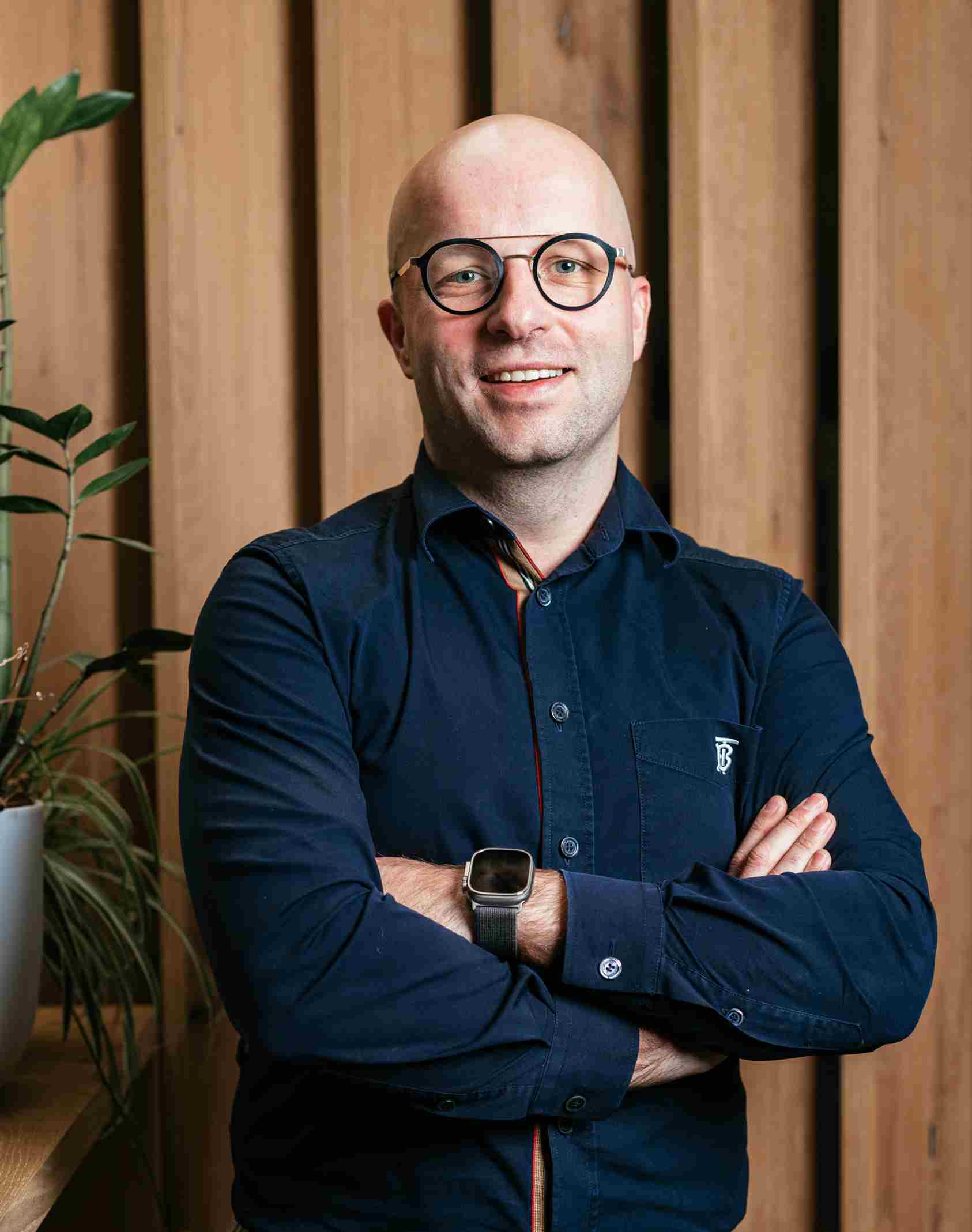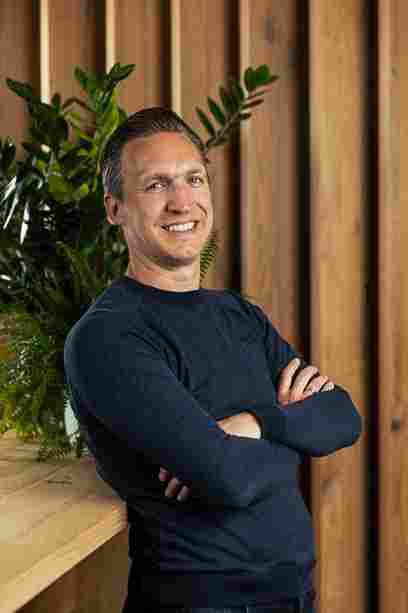 Sign up for our newsletter to receive updates,
relevant cases and upcoming trends.