In our last blog, we introduced you to Marketing Cloud Account Engagement (MCAE). A powerful tool that drives marketing and sales success by improving alignment between teams and nurturing new leads. With its diverse range of features, including email marketing, forms, automations, landing pages, custom redirects, and dynamic content, you can develop effective marketing and sales strategies to capture leads with higher purchasing potential. Let's deep dive into Marketing Cloud Account Engagement features.
Email Marketing
Before launching your email marketing campaign, it's crucial to determine your target audience. When you know the audience for your email, you can use various criteria and field values in its automation tools to segment your prospects in different ways, including Automation rules, Segmentation rules, Completion actions, and Dynamic lists. In this article, we'll dive into these segmentation features to help you achieve your email marketing goals.
With Marketing Cloud Account Engagement, you can personalize your emails based on each prospect's information such as their first name, company, account executive name,…. This way, your subscribers receive messages tailored to their interests. You can take your personalization to the next level with dynamic content that displays according to rules that you define based on values within a subscriber's record. Dynamic content ensures subscribers receive messages related to their interests.
In Marketing Cloud Account Engagement, it is possible to create email templates with headers, images, buttons and footers. The platform makes it simple to update the content and design of your email templates without any technical knowledge.
Landing Pages
Marketing Cloud Account Engagement's landing page builder offers a simple and convenient solution for creating landing pages without the need of a web developer. With the platform hosting the pages, you can also use them in automations to track prospect engagement. Choose from custom layout templates or use a stock template and the drag-and-drop editor to style your landing page. Additionally, it is also possible to host Marketing Cloud Account Engagement Forms inside landing pages without a technical background. This makes it easy to collect leads for whitepapers, events, newsletters, and more.
Forms
This Salesforce platform provides several options for collecting visitor information and turning visitors into identified prospects. There are two types of forms available: MCAE Forms and Form Handlers. Connect your external forms to the platform using Form Handlers, or create fully customizable MCAE Forms directly within the tool. Choose the fields to include on each form and easily edit its style to suit your needs.
Automation Rules
Automation rules allow you to automatically make changes to prospects in your database once they fit the criteria you set. Much like dynamic lists, automation rules are constantly running in the background of your account's database to look for a prospect that meets your criteria. You can be pretty creative with automation rules and use them to accomplish a variety of tasks in Marketing Cloud Account Engagement. The automation rule will run continuously until you choose to stop it.
Examples of tasks you can automate with automation rules include sending autoresponder emails, deleting or adding prospects to a list, notifying sales reps of an inbound lead, and assigning prospects based on their region or criteria.
Dynamic Content
Dynamic content in Marketing Cloud Account Engagement allows you to display custom content using Javascript on your website or within the platform. Think about displaying different content on forms, landing pages, layout templates, and emails based on prospect criteria.
When a prospect matches the criteria, the corresponding content variation will be displayed. With this feature, it is possible to display up to 25 different variations of content. If there are no matches or if the prospect has no data, the default option will be shown.
Custom Redirects
Marketing Cloud Account Engagement's Custom Redirects is a tool that allows marketers to customize the post-click experience for your website visitors. It is an essential part of any marketing strategy because it increases conversion rates and customer retention. MCAE Custom Redirects track the number of clicks and conversions to improve the website. Custom Redirects helps marketers increase the number of leads they can generate, it helps you reach your target audience and ensures you are not wasting time on unqualified inbound leads.
Completion Action
Completion actions in Marketing Cloud Account Engagement streamline your marketing efforts by automatically carrying out basic tasks. With completion actions, you can add an action to adjust a prospect's score upon accessing a file or add them to a list upon form submission. For more precision, you can add conditional completion actions to execute only on prospects who meet specific criteria. Completion actions are available on various platform features, including forms, form handlers, files, custom redirects, emails, and page actions.
Engagement Studio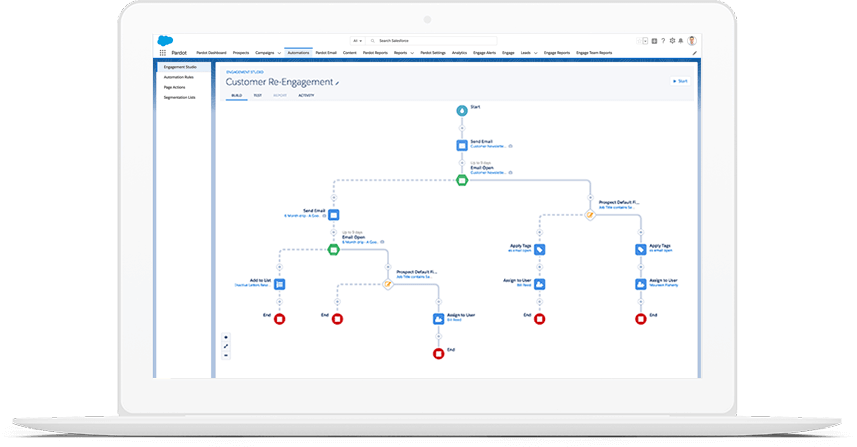 Like Salesforce Marketing Cloud's Journey Builder, Engagement Studio is a powerful lead nurturing tool that can be customized to fit your needs. Engagement Studio programs are made up of conditional steps that outline your prospects' journey. You can choose which recipient lists you want to use, create your flow based on your marketing plan, and let Engagement Studio do the heavy lifting for you. You can pause or edit your engagement programs at any time.
Maximize the benefits of Marketing Cloud Account Engagement for your business. Contact us for more information and let's deep dive into Marketing Cloud Account Engagement features.
Contact us for more information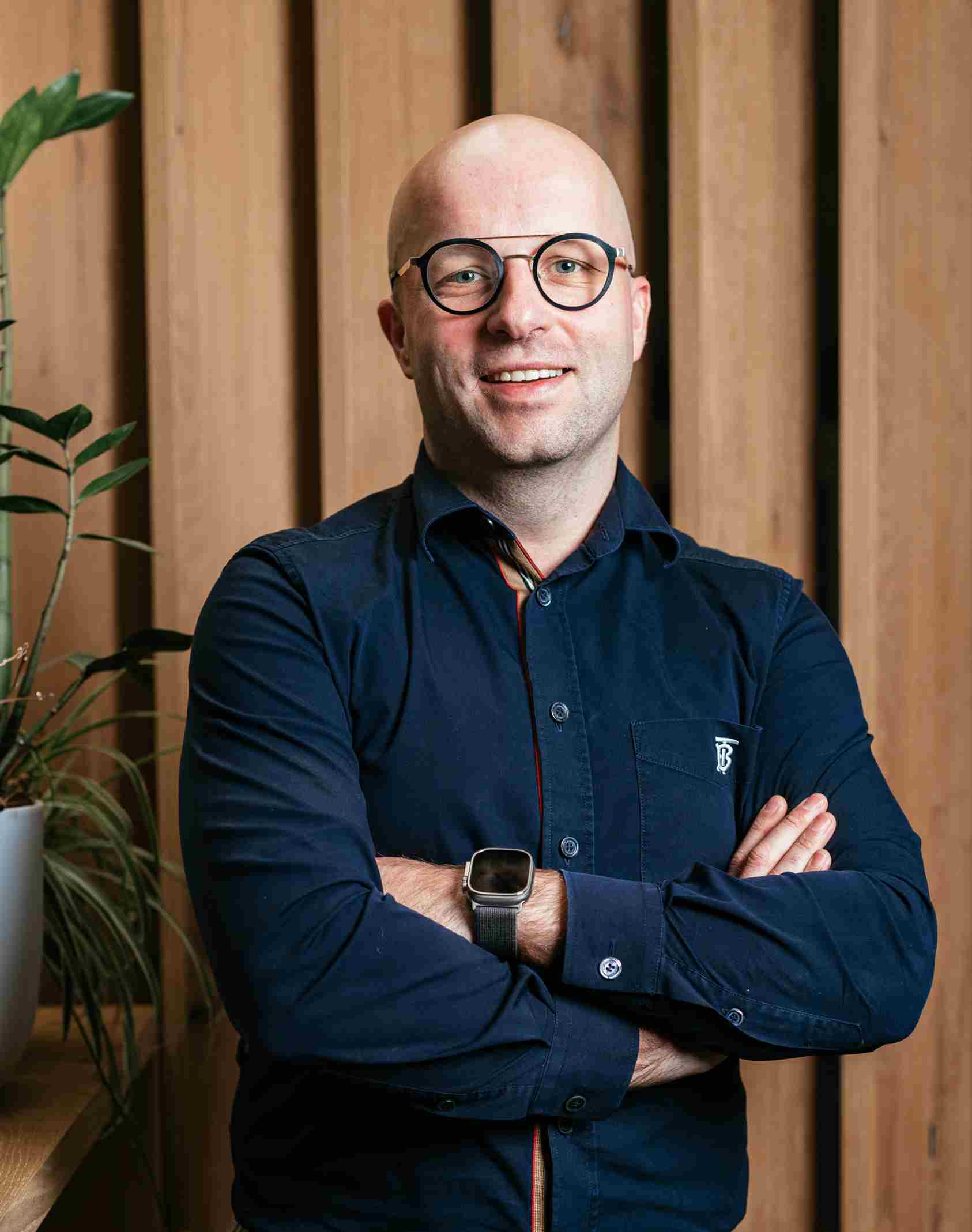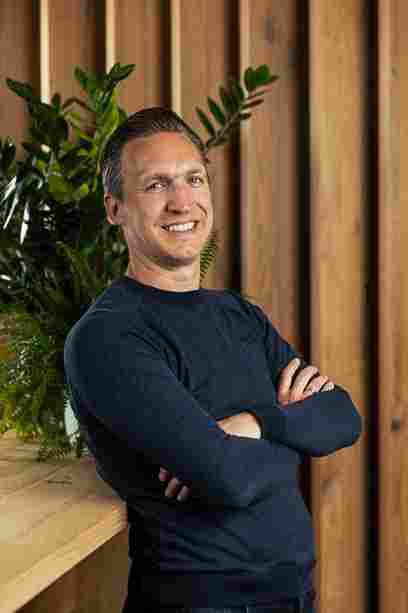 Sign up for our newsletter to receive updates,
relevant cases and upcoming trends.