The integration of OpenAI with the Salesforce B2C Commerce Cloud has the potential to revolutionize the way businesses approach content creation and SEO. In this blog, we will delve into the various use cases and discuss the power of OpenAI and Commerce Cloud. We will look at the benefits businesses can expect from the integration. Whether you are a business owner, marketer, or SEO specialist, this is an essential read for anyone looking to leverage the power of artificial intelligence. This to enhance their online presence.

What is OpenAI?
You may have heard a lot about OpenAI lately, as it has been making waves in the tech industry. But what exactly is OpenAI?
OpenAI is a cutting-edge artificial intelligence technology. It has the ability to automate complex tasks, generate high-quality content, and provide valuable insights. This platform uses advanced algorithms and deep learning techniques to analyse data and perform various functions. Making it a valuable tool for businesses looking to make their content creation and tasks faster and easier.
While OpenAI has received a lot of media attention in recent months, it is important to understand the significance of this technology and the impact it can have on various industries. But as with many things, it is not a silver bullet!
Trust, but verify
OpenAI's powerful language model is a game-changer in the world of artificial intelligence, but it's not without its limitations. As an AI model trained on vast amounts of text data, it can sometimes generate biased, misleading, or simply incorrect information. However, this doesn't mean you can't make use of it! By providing clear and specific prompts and sourcing material, you can harness the power of OpenAI and reap its benefits. And that is where our integration comes in!
The power of AI and Page Designer
The integration of OpenAI into the Salesforce B2C Commerce Cloud's Page Designer is a game-changer for eCommerce businesses and content managers. With its OpenAI integration, you are now capable of generating high-quality content and images with ease. Freeing up time and resources for content managers and allowing them to focus on more strategic tasks.
The integration of OpenAI in the content creation process has the potential to revolutionize the way businesses approach content creation. OpenAI can quickly generate high-quality content, HTML, and other types of content with a few simple inputs, saving hours of manual work.
OpenAI's ability to generate images and visual content is another key advantage of this integration. Businesses can save time and resources and focus on more strategic initiatives by automating manual design tasks. These so called "editors" can easily be integrated to leverage the full power of AI in pre-existing components!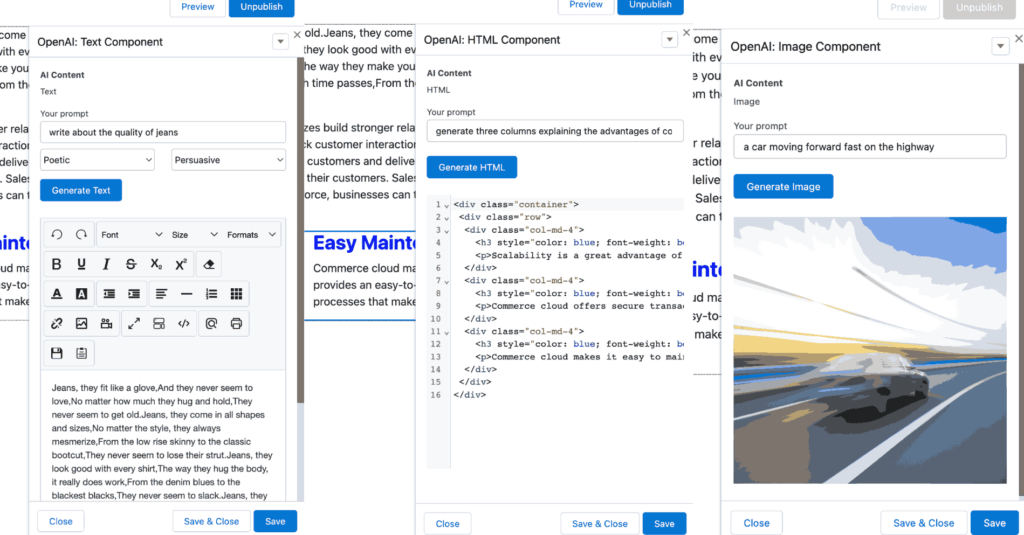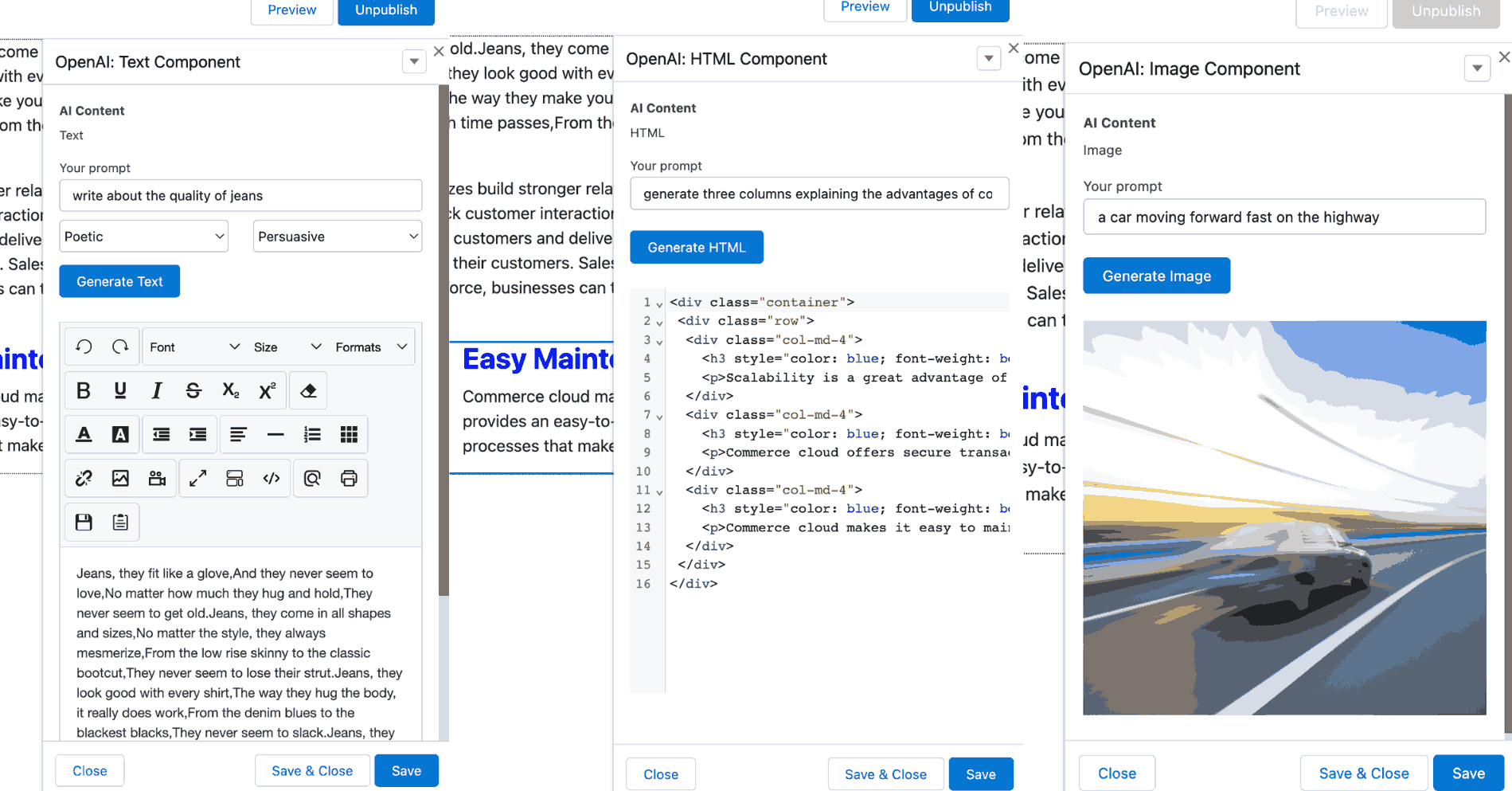 Product & Catalog SEO powered by AI
Completing missing SEO page titles and descriptions can be a time-consuming and tedious task, especially when working with a large volume of products and categories. But with OpenAI, businesses can now say goodbye to manual data entry and hello to increased productivity and better results.
OpenAI's integration into the Business Manager module of Salesforce B2C Commerce Cloud helps streamline the process of creating SEO-optimized metadata for products and categories. With just a few inputs, OpenAI can generate high-quality titles and descriptions optimized for search engines, freeing up time and resources for content managers to focus on more strategic tasks.
With the FORWARD integration module, you have the ability to process both single items and batches, offering a flexible and efficient solution for your business needs.
Once you have a prompt worked out that is your recipe for success, that same input can be used for batch processing!
Many more use cases
What we have shown here is just the tip of the iceberg regarding our module's potential uses. From automating repetitive tasks to generating high-quality content, it can revolutionize how businesses approach content creation and management tasks in Salesforce Commerce Cloud.
Get in touch with us today to learn more about the power of OpenAI and Salesforce B2C Commerce Cloud integration and how it can benefit your business.
Contact us for more information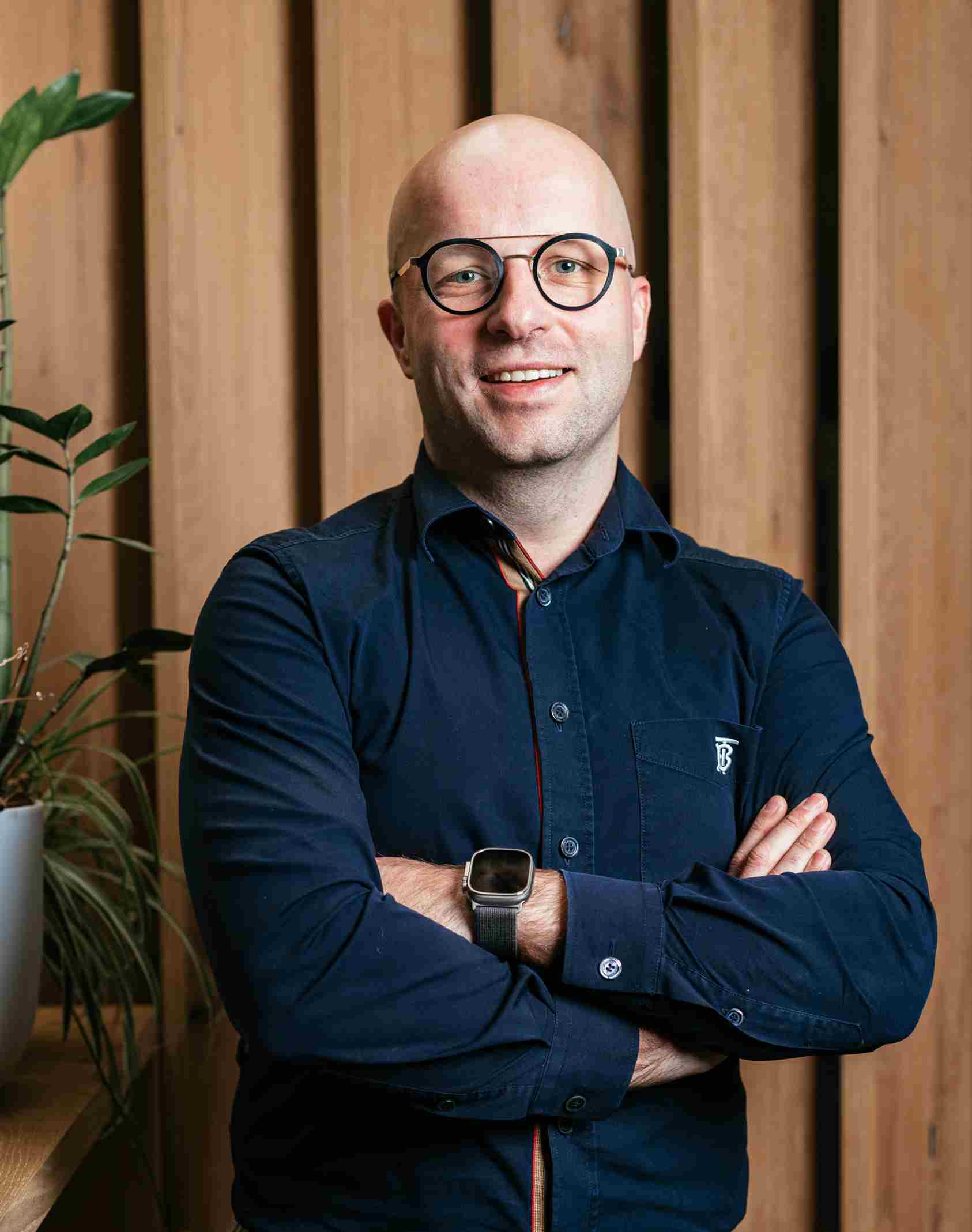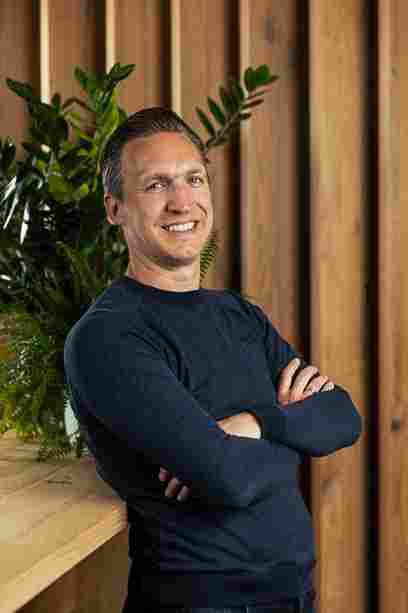 Sign up for our newsletter to receive updates,
relevant cases and upcoming trends.