Are you looking to align your marketing and sales teams? Want to drive and nurture leads? What is Marketing Cloud Account Engagement (Pardot) and how can it help you? In this blog, we will delve into the difference between Marketing Cloud and Marketing Cloud Account Engagement. In addition, we will look at the key features of the platform, including email marketing, segmentation, marketing automation, and scoring. Furthermore, we'll also explore the integration of Marketing Cloud Account Engagement with Sales Cloud. In conclusion, we will inform you on how you can it use to target the right person at the right time with the right tone.
What is Marketing Cloud Account Engagement (Pardot)?
Marketing Cloud Account Engagement (formerly known as Pardot) is a tool that powers your marketing and sales success. This by improving alignment between teams, driving and nurturing new leads. It is often used for "considered purchases", so where the sales cycle is long or where there are multiple decision makers involved. The tool is therefore popular among B2B businesses. Using Marketing Cloud Account Engagement helps identify your prospects and what they expect from your product or service. This helps marketing and sales closely work together towards an ideal customer journey.
Marketing Cloud vs. Marketing Cloud Account Engagement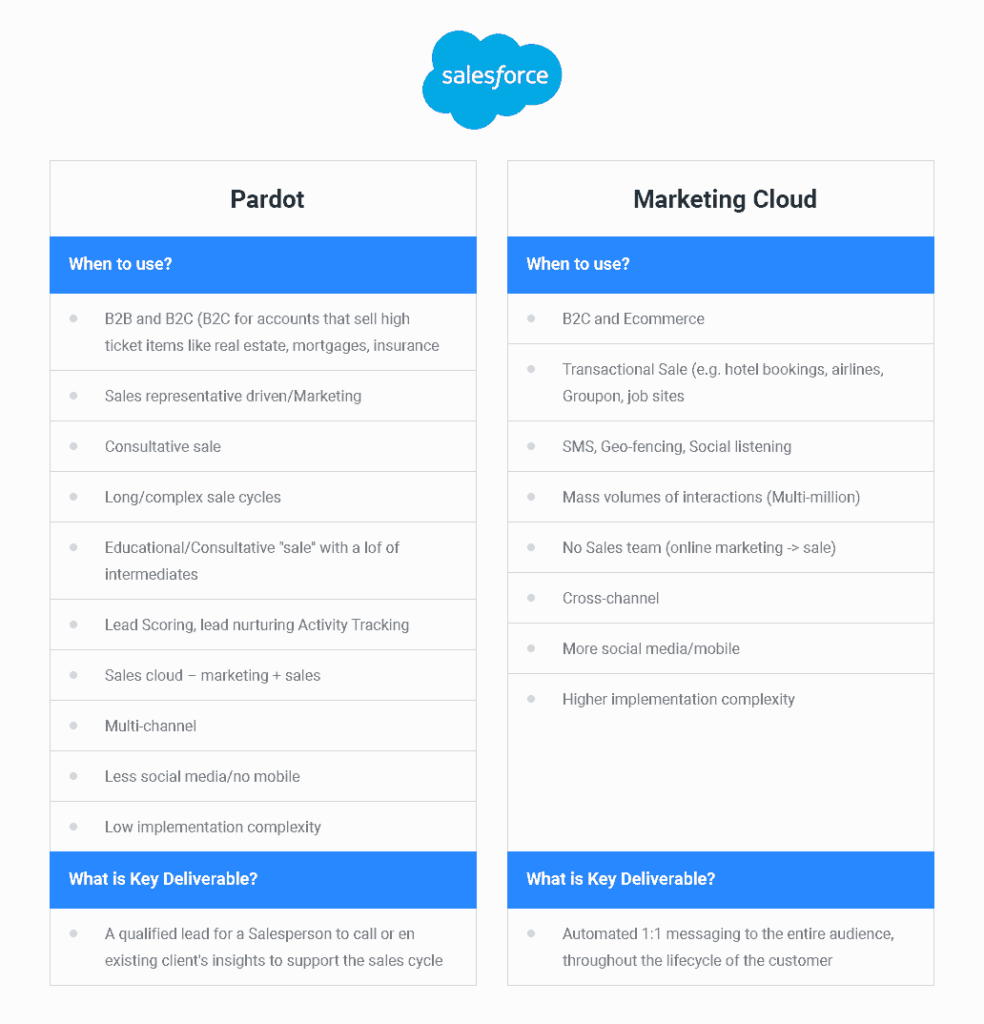 Even though the name would make you think that both platforms are closely working together, they do not, as there is no direct connection between them.
As mentioned before, Marketing Cloud Account Engagement is primarily positioned to use as a B2B platform. It is not considered an industry specific tool. Marketing Cloud, on the other hand, is primarily positioned as a B2C platform. It works for a range of industries, especially retail, fast moving consumer goods, health and beauty, …. Marketing Cloud helps you to inspire action and loyalty by humanizing every moment for each customer. It is better suited for transactional purposes across multiple marketing channels.
It is also said that Marketing Cloud Account Engagement is more suitable for companies with a smaller database, whereas Marketing Cloud might be a better fit for companies with a larger database.
Marketing Cloud Account Engagement is integrated with Sales Cloud meaning it 'talks' to the main Salesforce objects (such as Contacts, Leads and Opportunities). Marketing Cloud is not directly integrated with Salesforce and this is also not necessary in order to work with the tool.
Some components of Marketing Cloud Account Engagement
Marketing Cloud Account Engagement offers different key features. In fact, they all help towards targeting the right person at the right time and in the right tone. Below, we'll go through some highlights of what the platform has to offer.
Email Marketing
The primary marketing channel of this platform is Email. Since Marketing Cloud Account Engagement is connected to your CRM, it is easy to dynamically populate emails with personalized content. These personalized emails will create more engagement among your subscribers and result in a higher brand association.
Segmentation
Marketing Cloud Account Engagement offers you several ways to segment your audience. These go from Lists to Rules as well as Tags and Profiles. Each option has its own strategy and features behind it. Creating specific audiences allows you to not only send relevant emails to your customers but target them via the correct touchpoint.
Marketing Automation
Use Engagement Flows to create unique and personalized customer journeys. These flows help in creating the perfect customer journey for your prospects / leads. Don't overload them with irrelevant content throughout each step of the flow, but only engage them at the right time with the right content. Or you can take data-driven actions based on their behavior in the engagement flow.
E.g.: Assign Pardot prospects to your sales team when they interact with your landing pages / emails. The possibilities are almost endless.
Scoring


Marketing Cloud Account Engagement scoring is a feature that helps identify how interested prospects are in your products or services. Scoring is based on the number of interactions a prospect has had with your marketing assets (emails, forms, landing pages, …). You can apply a different weight to each of your marketing assets, depending on what is most valuable to your business. Whenever a prospect reaches your score threshold, an automated message can be sent to your sales team to get in touch with them. Ultimately, this makes scoring a great feature to identify hot leads and push them to the sales department.
Grading


Grading works in a similar way as scoring. Where scoring is based on interactions, grading is all about how well a prospect matches your ideal customer profile. This can be based on certain criteria such as Job title, Location, or a combination of several data. In fact, the more requirements a prospect meets, the higher their grade will be. Your sales team can use this grade to prioritize and seize opportunities.
Forms
Marketing Cloud Account Engagement gives you the option to either create your own forms directly from within the platform or use form handlers. Form Handles enable you to re-use existing forms on your website and integrate them with Marketing Cloud Account Engagement in order to track submissions and information directly in the tool.
Engagement History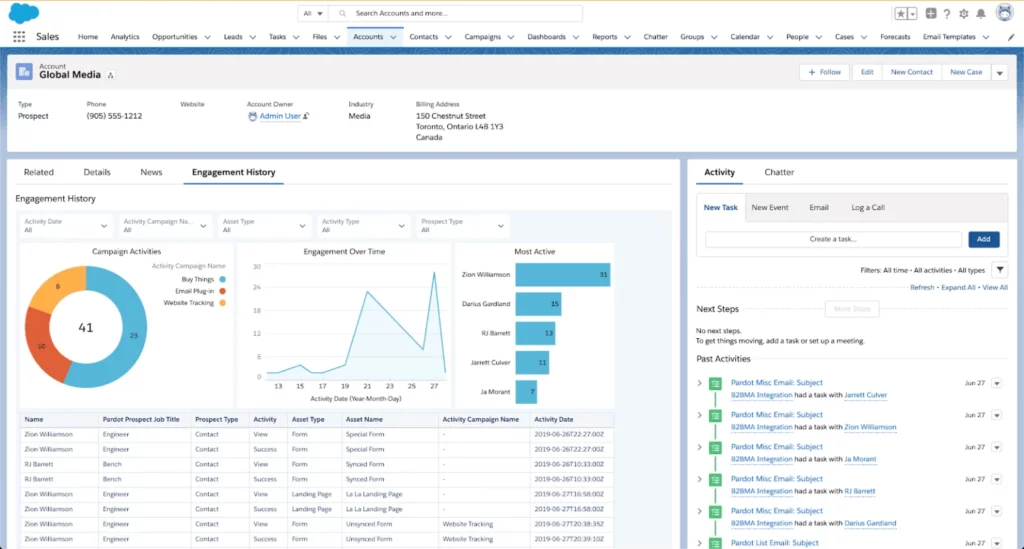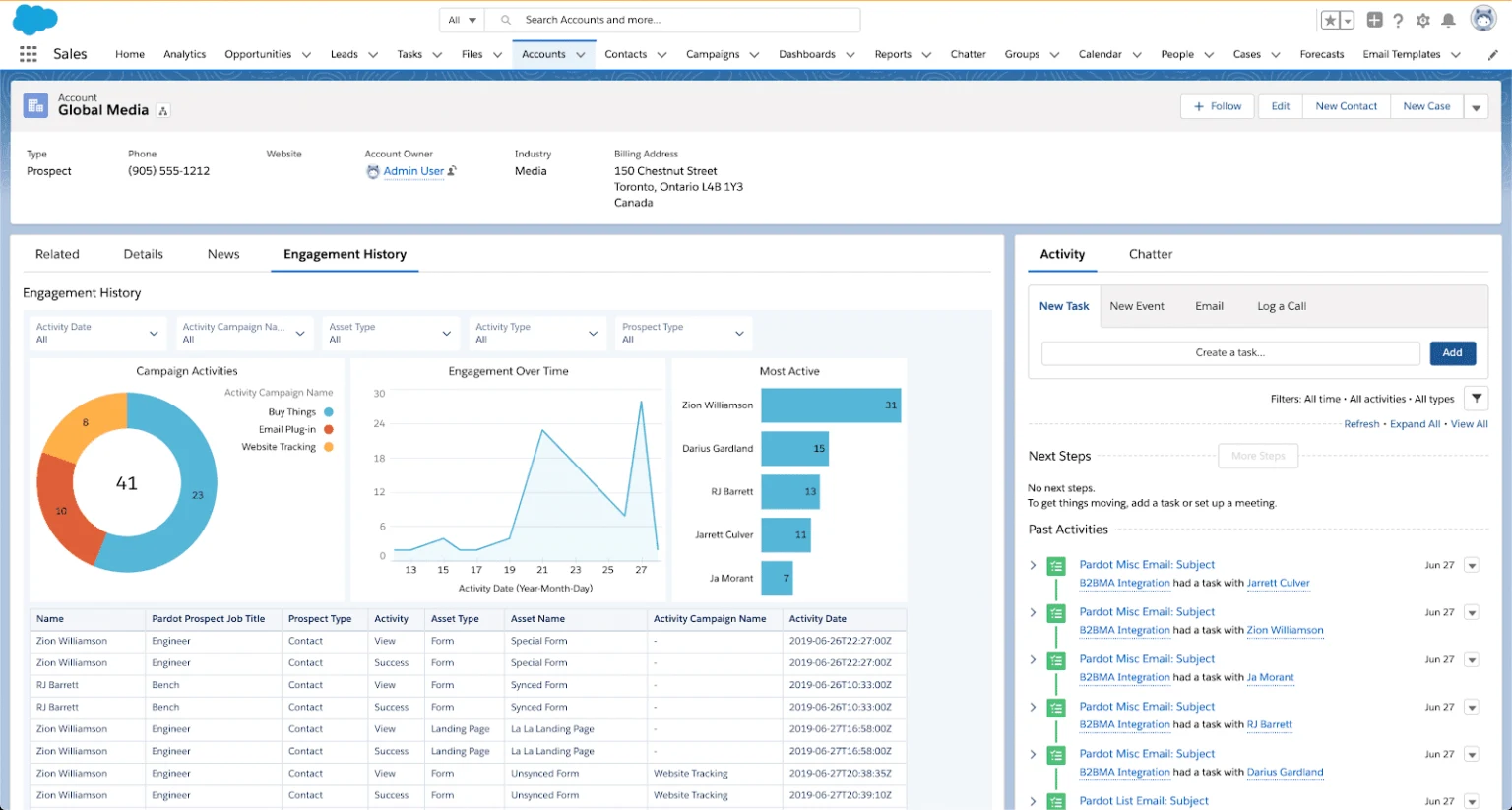 Sales and Marketing come together as Engagement History can be added onto the Salesforce CRM overview. Your sales team can see which interactions this lead has had with your emails, forms, … All of this data helps them to have a better, more personal interaction with the prospect.
Lead Generation and Lead Management
In order to nurture your leads, the first step is to gather information about them. This can be done by setting up strategic campaigns and adding a form that contains the exact data you want to capture. Fill your pipeline with leads that are a good match to your company and are considered high-quality leads. Discover who your most engaged leads are and focus on them in the first place in order to convert them.
Interested in what Marketing Cloud Account Engagement can do for your company? Contact us for more information.
Contact us for more information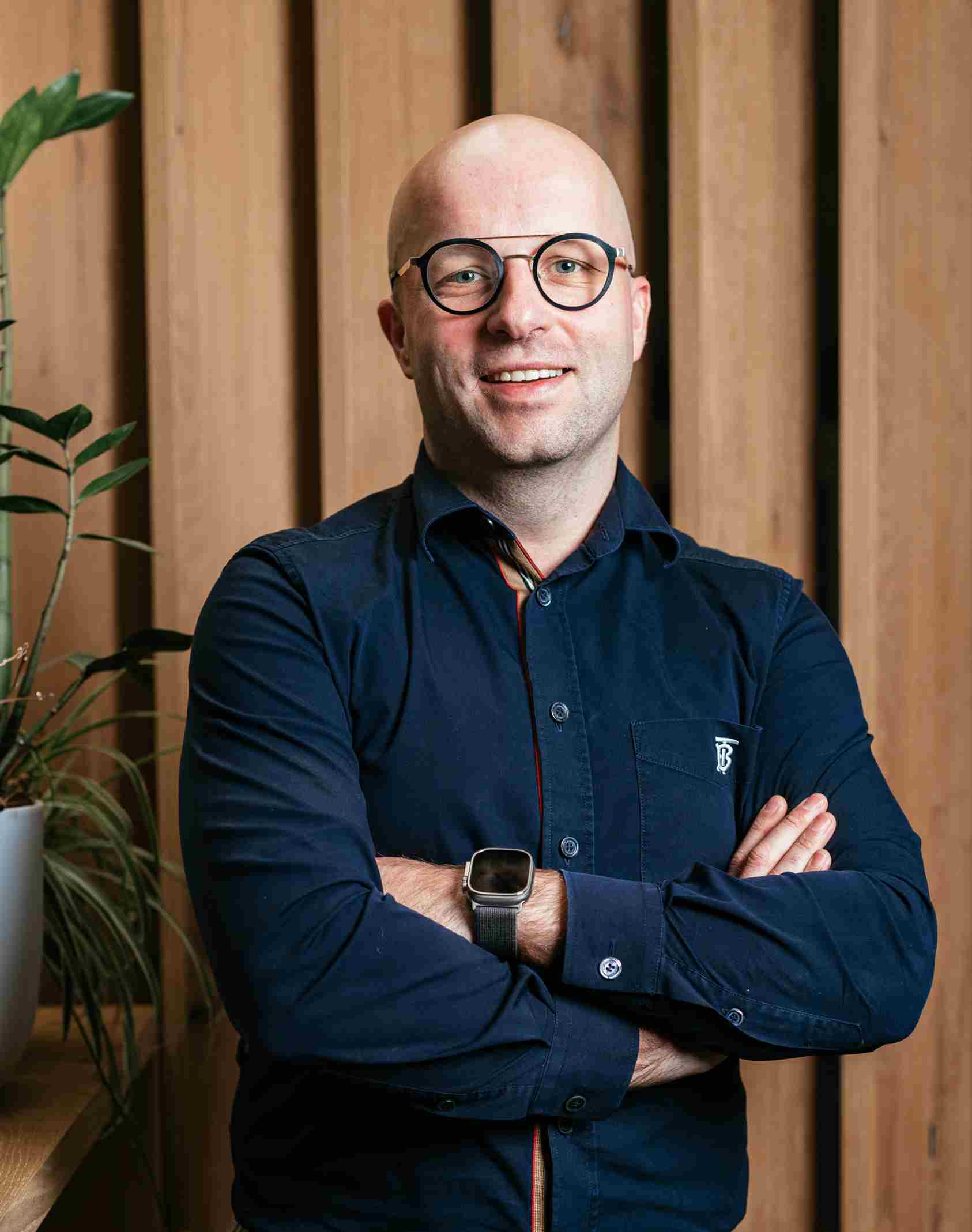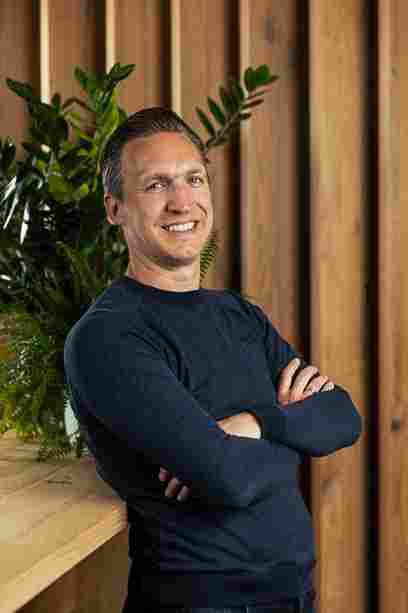 Sign up for our newsletter to receive updates,
relevant cases and upcoming trends.