We are in an era where data analytics has become one of (if not the) top priority for data-driven businesses. As a Marketeer, one of your main questions should be how to correctly interpret your analytical website data and ensuring correct actions are taken based on these insights. Let's take a look at Web Analytics in Salesforce Marketing Cloud.
Back in the days as a junior Marketeer just starting off in Marketing, I would just implement the Google Analytics code on certain pages of my website whenever I needed to track something. However, it obviously goes way further than that. The question is not about implementing a simple Google Analytics code, but it is about taking actions on those captured analytical data and creating relevant, personalized customer journeys.
What exactly are Web Analytics?
Before we deep-dive into how Salesforce Marketing Cloud can guide you on your journey through the digital analytics landscape, let's take a step back and get back to basics. So, you might wonder what exactly are Web Analytics? Web analytics is the process of analyzing the behavior of visitors to a website. This could involve tracking, reviewing and reporting data to measure certain web activity. You could go quite advanced with this and track for instance: whitepaper downloads, form completions, video views, images seen etc.
Like most things in Marketing, before analyzing all these kinds of stuff you first need a digital marketing plan in place. Basically, you have to figure out what your goal is and have a real strategy before doing anything else!
Where do I start as a company?
The biggest challenge you have as a company when you want to implement a web analytics strategy, is knowing your challenges, metrics (KPI's) and goals. There are a lot of "great practices" out there and inspirational content to give you some ideas on things you could track. But it all starts with reflecting on what YOU care about as an entrepreneur.
Some possible reflections and thoughts you could made:
Do I just care about making money and converting leads on my website?
Or do I want to get a list of potential email subscribers?
Do I want to track people who have downloaded whitepapers / installed an app?
Figuring out your business challenges, KPI's and goals will enable you to figure out your success indicators before implementing a web analytics strategy.
Which things should I track? What are my KPI's?
One of my preferred approaches whenever I need to implement a web analytics strategy nowadays, is figuring out the end goal and working backwards from that moment on. As mentioned above, figuring out your goal will help you to understand what data you should care about.
Imagine for a moment our end goal is tracking people who have downloaded our newest whitepaper by filling out a download form (name, email, company, phone number). We want people to download our whitepaper.
How do we begin?
We first create the whitepaper and the download form and make sure the form is perfectly working end to end:

People fill in their information in the form.
The info gets captured when they click the "Submit" button.
Afterwards they can download the whitepaper or receive it in their mailbox.

How do we make sure people can find our whitepaper?
By using social media, SEO and maybe we could even start an advertising campaign with Google Analytics.
How do you get people to fill in their contact information?
Make sure the form landing page is appealing and "teasing enough". So you trigger people to actually be interested in reading the whitepaper.
How do I put data analytics combined with Salesforce Marketing Cloud into practice?
So, by now you might be wondering how to put all this gained jolly holy knowledge into practice. Without going too much into technical details (if you're interested to receive more details, feel free to contact us) basically it all comes down to integrating and setting up a web analytics tool like Google Analytics with your Salesforce Marketing Cloud instance. This will allow you to track and measure your email engagement and conversion data within Marketing Cloud, helping you to identify the best performing content.
Let's refer to our previous example of tracking whitepaper downloads via our website and analytical tools. Imagine you want to make some buzz about this by sending out an e-mail to all your clients and / or prospects with a button to directly link them to the whitepaper download page. Now this is where the magic could happen and at which stage you should hold your horses before doing anything.
First, you could connect Google Analytics with Marketing Cloud to configure the URL link parameters that will append to all your messaging links. You can immediately change your UTM parameters within the "Parameter Management" setting in your Marketing Cloud instance. Here, you can update your "utm_source" and "utm_medium" parameters and make sure "utm_campaign" represents the Message Name (or set it manually for each outgoing communication).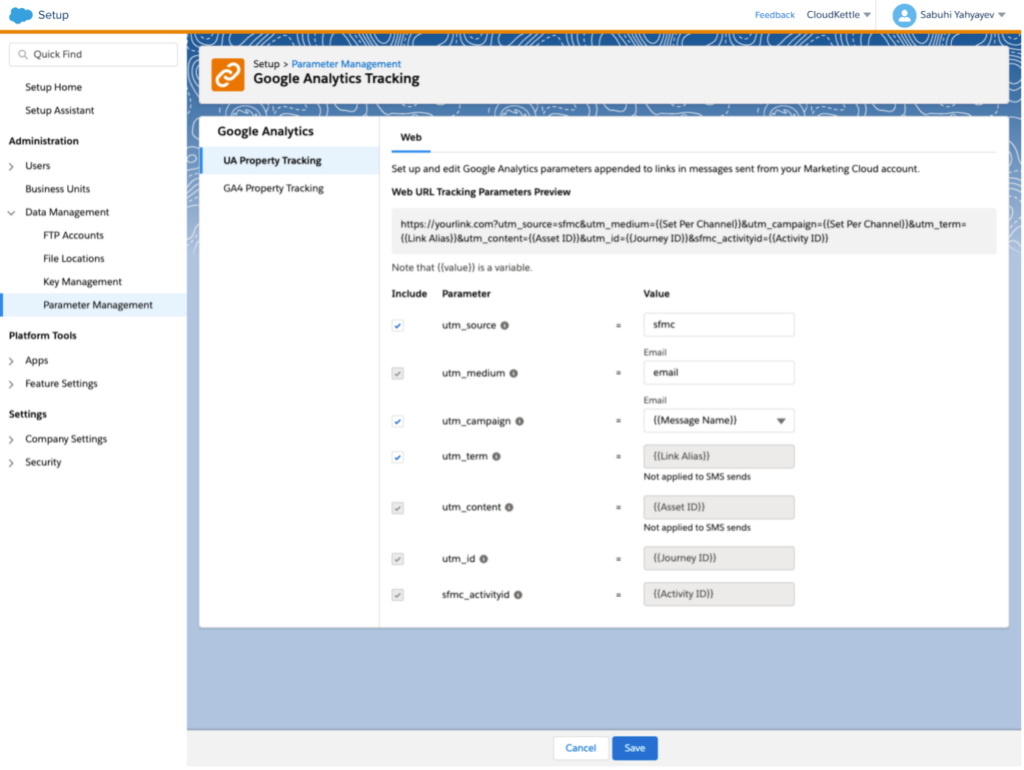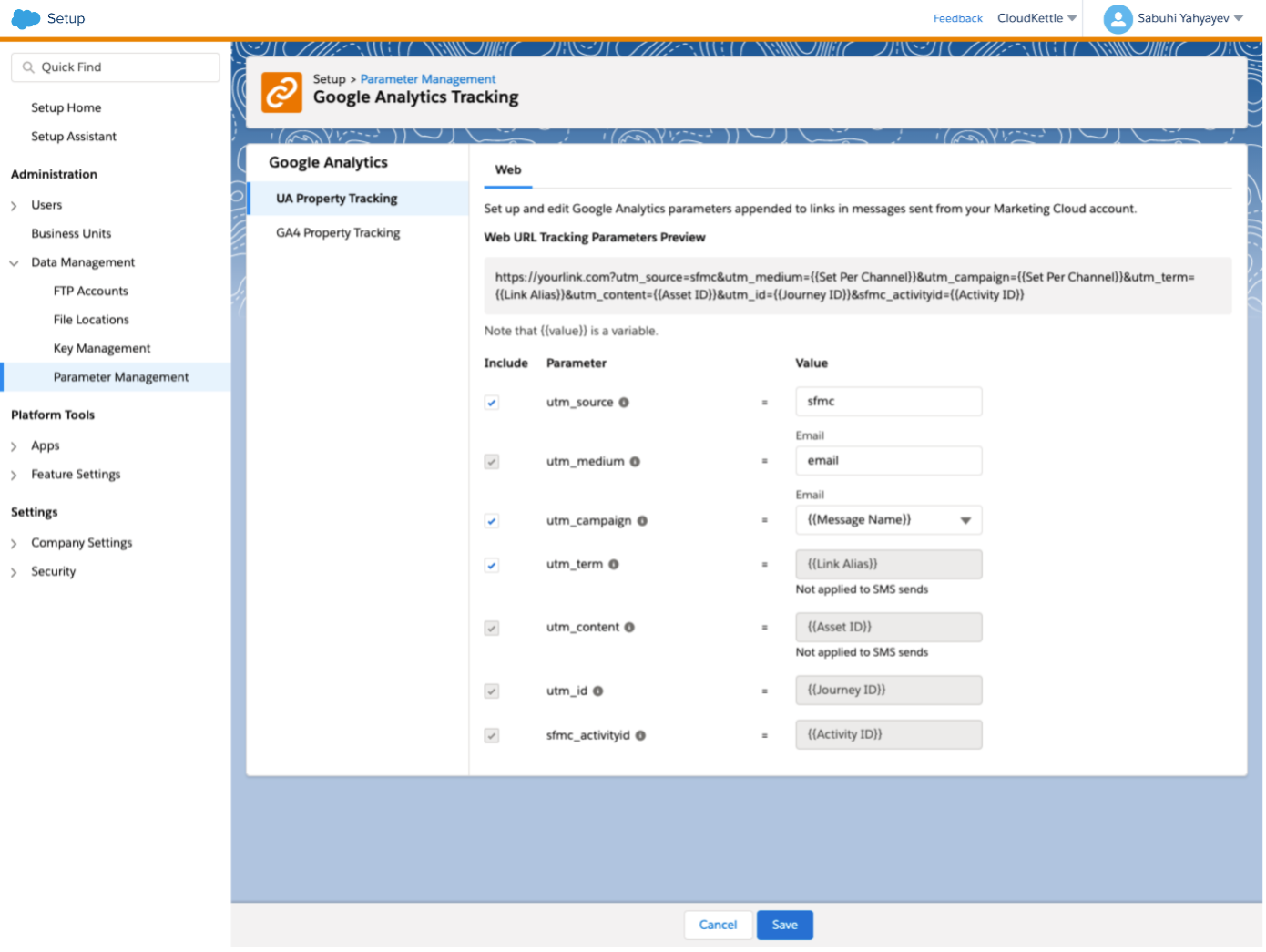 After performing this initial set-up, test your integration. You can do that by configuring the journey via Journey Builder and completing the goal on the website. This aligns with the goal you have defined in Google Analytics (which is downloading the whitepaper). Afterwards navigate to the Journey Analytics dashboard and confirm your integration is successful by seeing the Goal Completion and Site Usage data populated.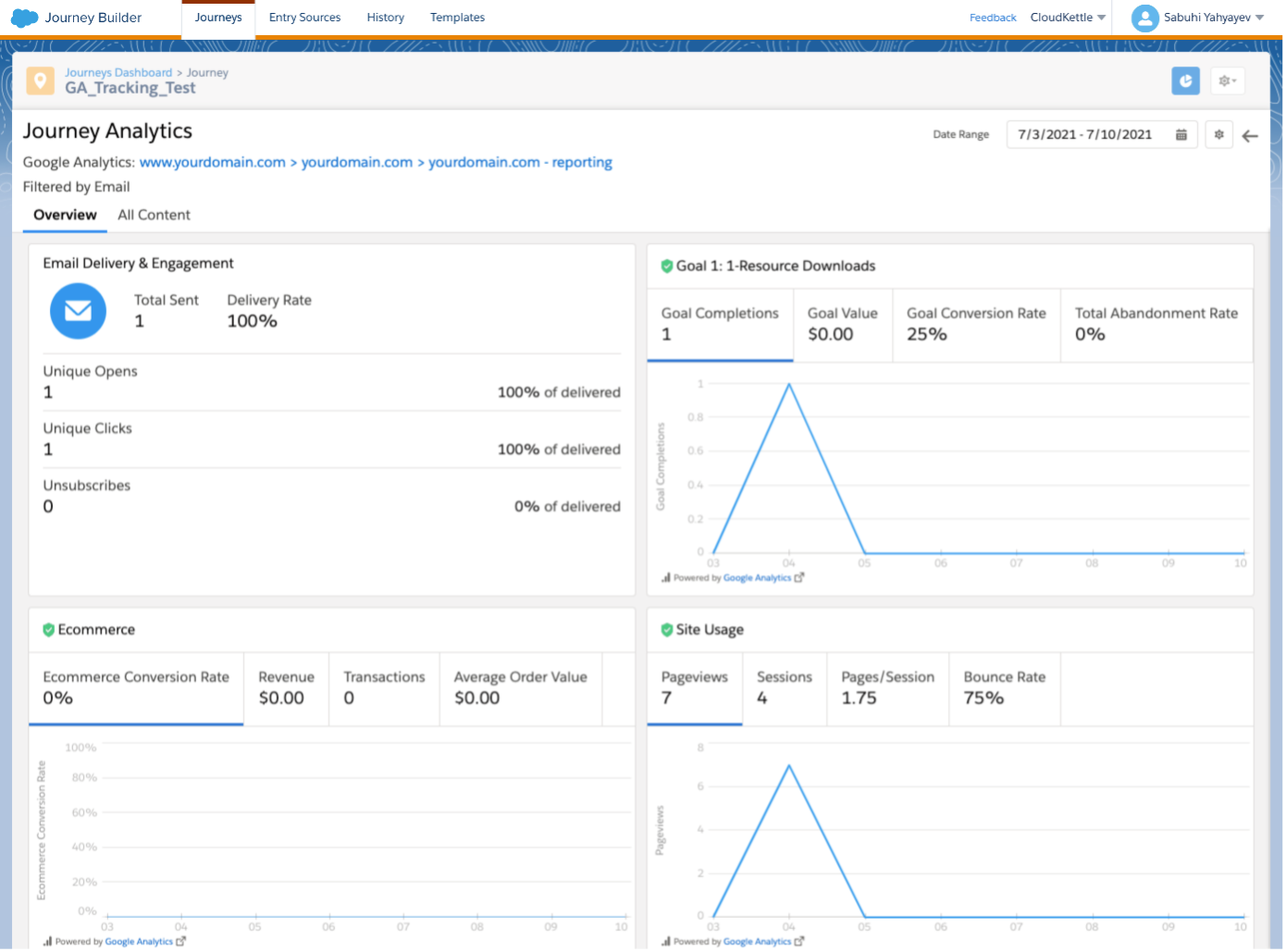 You could even take this a few steps further by leveraging the infamous Einstein to provide further insights (Copy Insights, Messaging Insights) but that's maybe a topic for a next blog.
What are the next steps for your company's web analytics journey?
As Marketeers, we must continue to challenge our data-driven goals and mindset. Keeping these web analytics insights in mind is already a great starting point. While you're keeping these insights in mind, feel free to also keep in mind FORWARD is here to help you on your Salesforce Marketing Cloud web analytics journey.
Get in touch to receive more information!
Contact us for more information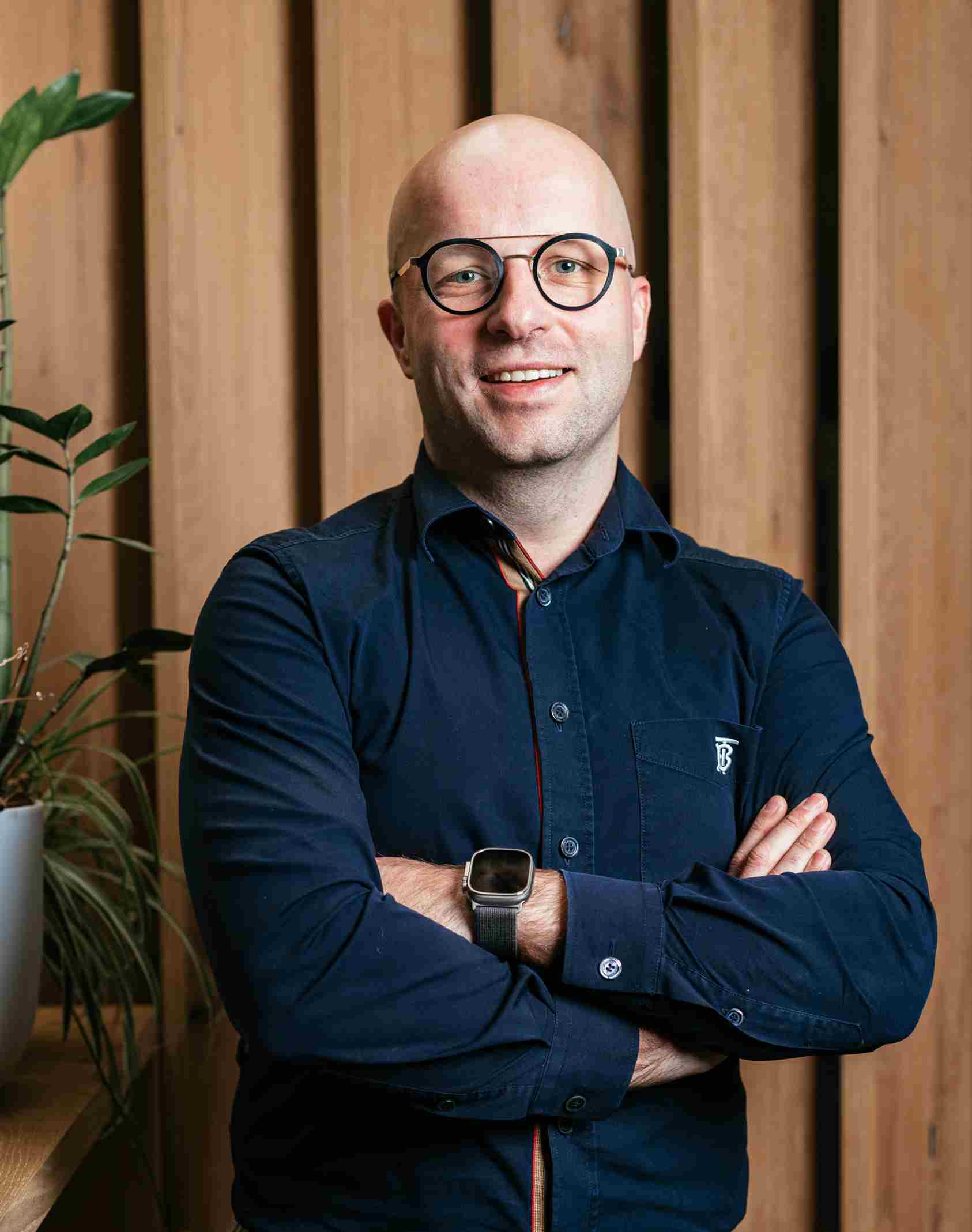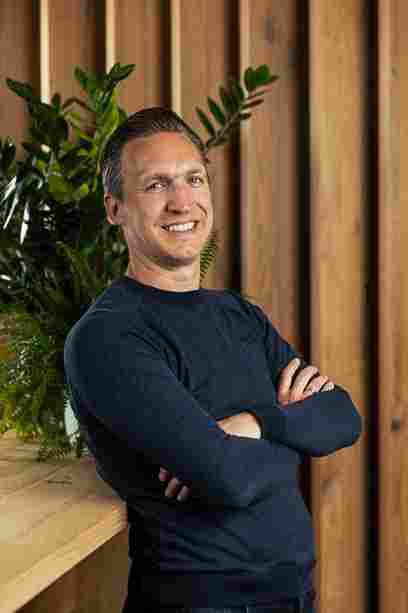 Sign up for our newsletter to receive updates,
relevant cases and upcoming trends.